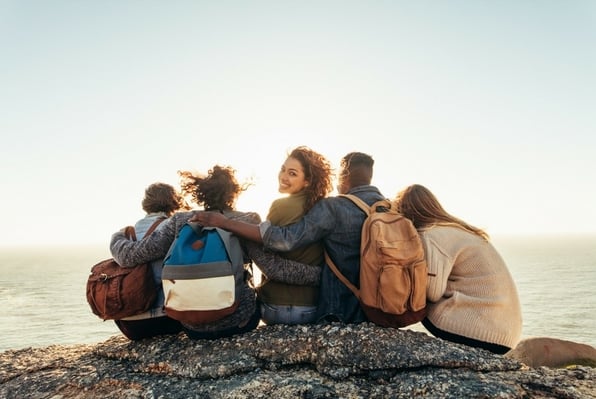 You always imagine that you will be financially better off in the future. That you will have learnt from your financial mistakes. But none of that will happen if you don't make changes today. Here are 5 things you can do now that your future self will thank you for:
Create a Budget and Stick to It!
One of the reasons people find themselves in a financial muddle is down to not budgeting correctly or at all – get practical step by step help with creating a budget here. Take control of your money by creating a budget. Know what's coming in, going out and never live beyond your means again. Taking control now will mean you are more likely to be able to achieve the goals you are aiming for, so your future self can live the life of your dreams.
Create an Emergency Fund
Life has a habit of throwing the unexpected at you at the worst possible moment. Put aside some money to cover costs such as the car breaking down or the washing machine leaking. Budget that money from your income every month. Having an emergency fund decreases the chance of needing to use credit to pay for emergencies. You don't want your future self to be burdened with debt accumulated just because you didn't have a financial buffer.
Plan for Retirement
It might seem a long way off, but you need to start planning for retirement now. Look at what income you will need to live the way you desire later in life. Then review what your current provision is – do you have assets, savings, pensions? How much money will these provide you with in retirement? If you fail to plan for life post work, then you run the risk of not being able to retire due to a lack of financial resources. We have included a new Guide to the Effects of Covid 19 on Retirement Planning.
Protect Your Family
Consider what would happen if you or your partner were seriously ill or unexpectedly died. How would you carry on and pay the bills, school fees etc.? Is there a possibility you would have to give up your job if your spouse died to take care of the kids? Putting financial protection, like life insurance or critical illness insurance or income protection in place now could stop a tragedy from turning into a financial crisis – Check out our Guide to Protection Planning to learn more.
Pay Yourself First
If you find yourself never having any money at the end of the month to save, then start paying yourself first. You will need to have already created a budget, so you know what available income you have each month for things outside of your essential costs. Every month when you have been paid take a specific amount from those funds and put that money towards savings, retirement, emergency fund, paying off your debts – whatever it is that you are wanting to achieve. This means you won't have the cash to waste on unnecessary items and will quickly start hitting those financial goals you have set.
Conclusion
Start Now! Make a Budget, Stick to It! Create an Emergency Fund! Plan for Retirement! Protect Yourself and Protect Your Family! Pay Yourself First!
That is it. It is a super simple five step plan to improve the quality of your life in the future.
Related Material:
Life Centred Financial Planning
Mike Robertson Associates Limited is an appointed representative of Lighthouse Advisory Services Limited which is authorised and regulated by the Financial Conduct Authority. See here for full details.
Specialising in Life Centred Financial Planning, MRA is unlike other traditional independent financial advisors – we are so much more. We help individuals, businesses and families achieve the best quality of life they can with the resources they have. Life Centred Planning is about the person, not the product and our Life Centred Financial Planners look at how your money can be arranged so that it's serving your aims and dreams in this lifetime.
We are experts in cash-flow analysis, retirement planning, taxation, savings and investments, life centred planning and much more. We are passionate about working with you to help you achieve your life and financial goals, get control of your finances to enjoy a brighter financial future.
Based in East Sussex we service clients across the South East, Sussex, Kent and the whole of the UK including smaller towns such as Ashford, Battle, Bexhill, Bodiam, Brighton & Hove, Cranbrook, Crowborough, Eastbourne, Hailsham, Hastings, Heathfield, Herstmonceux, Lewes, Mayfield, Newhaven, Rye, Seaford, Sevenoaks, Tenterden, Tonbridge and Tunbridge Wells.