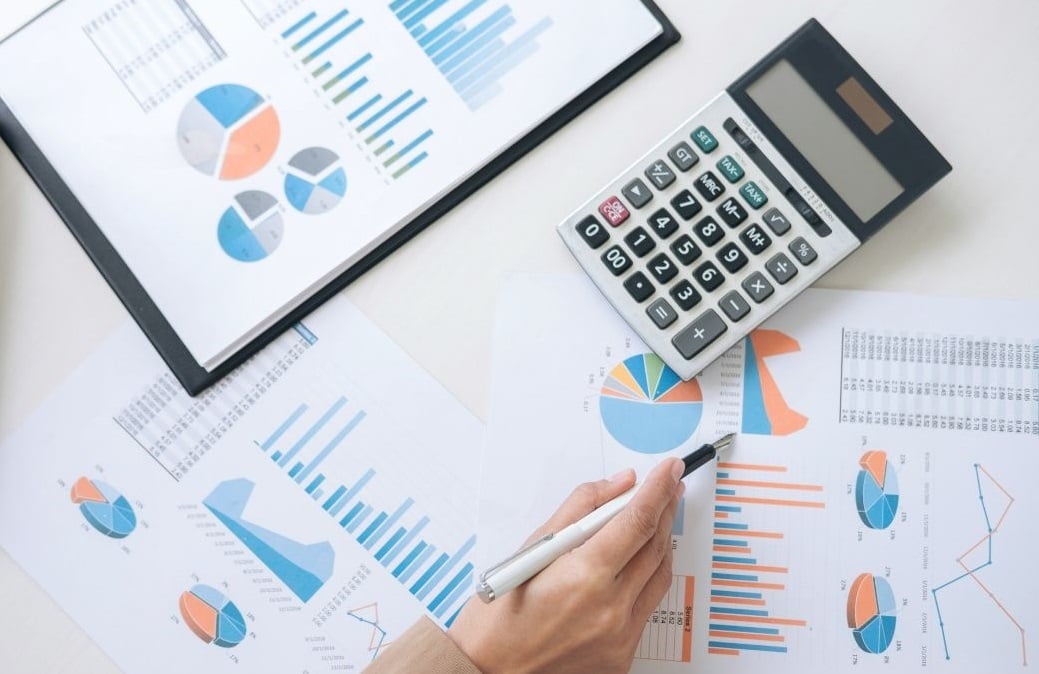 Your company's financial health is crucial to its success and informing your business planning. Here are the 8 financial figures all business owners should know.
1. Gross Profit
This is what your product or service costs to buy or produce versus its selling price. Crucially this is the figure before you deduct any expenses or operating costs. Indicating how much potential profit you could be making every time you make a sale.
2. Net Profit
Net profit is a measure of the profitability of a company after accounting for all costs and taxes. This is the actual profit you are making and includes the operating expenses that are excluded from gross profit.
3. Expenses
As a business, you are entitled to claim specific expenses and costs of running the company or producing your product. As a general rule, your expenses must be "wholly, exclusively and necessary" for the business - you can find out more about allowable expenses for the self-employed on the gov.uk website.
If your expenses are too high, it will hurt your net profit, so managing this is crucial to maintaining a successful business.
4. Sales
Sales are one of the most critical functions of any business, and the ability to convert a potential customer into a sale is one of the most useful business skills to acquire. Analyse not only the financial value of the sales you are achieving but also the conversion rate, identifying what aspects are attracting customers and why you are losing those who don't buy.
5. Inventory
Inventory is the number of goods you have available for sale and raw materials used to produce goods available for sale. It represents one of your primary sources of generating revenue and subsequent earnings for the company. It is essential to manage the level of inventory your business has. Keeping a high amount of stock for any length of time increases the risk or spoilage or obsolescence, in addition to increased storage costs. Too little inventory and you may not be able to fulfil the orders coming in.
6. Cash Flow
Cash flow is the money that is coming in and out of your business in a month. The aim is to have more flowing in than you have going out. A lack of cash is one of the key contributing reasons small businesses fail. Ensure you have adequate cash reserves in order to remain resilient to market fluctuations that could affect your business. Your accounting software will most likely have a cash flow statement as one of the standard reports so you can monitor this on a regular basis.
7. Tax Liability and Allowances
As a business, you are required to pay tax to HMRC. The business structure you have will indicate how you do this. For example, a sole trader will be submitting self-assessment tax returns each year. However, a limited company must comply with corporation tax regulations.
It is critical to understand what the requirements are to meet your tax liability and similarly what tax allowances you may be eligible for to reduce the amount you need to pay. Making mistakes regarding your tax liability could have a detrimental effect on your company and incur financial penalties. You can find more guidance on business tax on the gov.uk website and by downloading our free tax planning guide here.
8. Profit and Loss
A profit and loss statement shows a company's revenues, expenses, and most of the gains and losses which occurred during a specific period, usually a fiscal quarter or year. These records provide information about a company's ability to generate profit by increasing revenue, reducing costs, or both. Helping you to ensure that the company remains profitable.
Further information
If you found this information useful, you may also want to check out the following:
Mike Robertson Associates Limited is an appointed representative of Lighthouse Advisory Services Limited which is authorised and regulated by the Financial Conduct Authority. See Full Details.
They help individuals, businesses and families achieve the best quality of life they can with the resources they have. MRA specialises in corporate solutions, cash-flow analysis, taxation, savings and investments, life centred planning and much more. Life Centred Financial Planners are passionate about working with you to help you achieve your life and financial goals, get control of your finances to enjoy a brighter financial future.
Based in East Sussex we service clients across the South East, Sussex and Kent, including smaller towns such as Ashford, Battle, Bexhill, Bodiam, Brighton & Hove, Cranbrook, Crowborough, Eastbourne, Hailsham, Hastings, Heathfield, Herstmonceux, Lewes, Mayfield, Newhaven, Rye, Seaford, Sevenoaks, Tenterden, Tonbridge and Tunbridge Wells.
Sources:
https://www.gov.uk/expenses-if-youre-self-employed
https://www.gov.uk/browse/business/business-tax