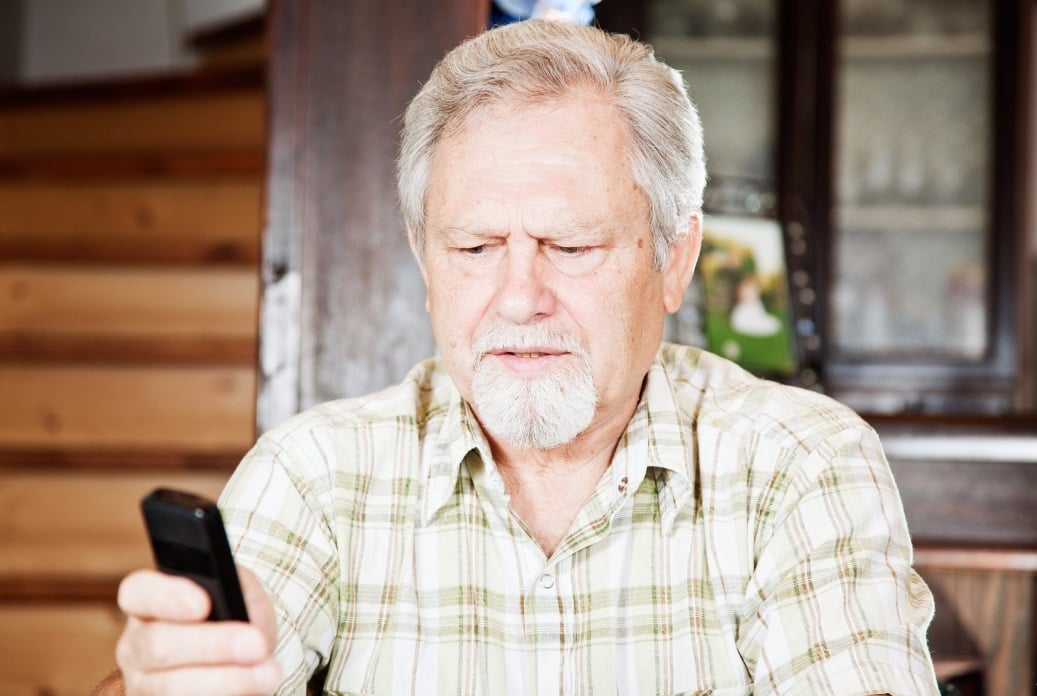 Anyone can be the victim of a well-planned financial scam, even the most diligent person could be duped. However, as we age the risk of being susceptible to such fraud increases.
Not just about cognitive decline
You may think that one of the main reasons you might fall foul of a scammer is cognitive decline as you age. However, new research indicates that emotional changes could also play a part in our vulnerability as we get older.
Emotional changes
As we age, we are more likely to see the positive in a situation and not realise the negative aspects in the same way we did when we were younger. Meaning we are not as vigilant against threats.
Research has also found that as we get older, changes to the brain occur in regions that help us decide whether or not to trust someone, leaving us less likely to notice deceit. It's believed that this is because our brain shrinks, so signals from our brain that contribute towards that 'gut feeling' when things aren't right are not as strong.
A scammer maybe someone you know
Many of us assume that a scammer is someone we don't know just trying their luck, we don't anticipate it will be a family member or friend. This coupled with our increased positive outlook as we age leaves us more vulnerable to financial scams committed by people we know well.
Phishing attacks
The socio-emotional changes experienced as we age can also make us more susceptible to phishing attacks online. Phishing attacks are tricking someone into providing their personal information or into downloading malicious software.
If a phishing attack is disguised in an email made to look like it's from a local group inviting you to join or pretending to be your bank or another trusted source, then your suspicion may not be raised as easily. Leading you to click on a link or give information that you may otherwise not consider telling someone.
Impact of technology
Many of us did not have the technology we do now for the majority of our lives. It is a change that we have had to adapt to and learn new skills to navigate. That inexperience is often exploited by scammers.
Ensuring you understand how to stay safe online alongside how things such as push notifications and other technology works can help to protect you from these types of scams. Age UK has some good tips for staying safe online on their website.
Mental effects of ageing
Of course, ageing does have an impact on our mental ability and capacity. You may become more forgetful or fall into ill health and start to find life becoming more challenging.
It is also possible that you may develop Alzheimer's or Dementia. If this is a slow process of decline, you may be more vulnerable in the early stages before symptoms are noticed.
You may want to consider putting a Lasting Power of Attorney in place to state who you wish to deal with your finances should you find yourself struggling. Find out more about Lasting Power of Attorney and how it works in our blog post here.
How can you protect yourself?
You can take many precautions to protect yourself from scams. Age UK has lots of information on their website to guide you, here are some of the actions to take:
Never give out your personal or financial information over the phone.
Never click on a link in an email or text.
Question any unexpected interaction, people cold calling you or contacting you unexpectedly.
Never be rushed into a decision or giving information. A trusted organisation would never behave this way. If you are being pressured or talked over, then hang up.
Be cautious about what you post on social media. A scammer could use this public information to target you or pretend to know about you.
Register with the telephone preference service to reduce the number of cold calls you receive. Although it's important to note that this will not block the scammers.
Contact the Mailing Preference Serviceto have your name taken off direct mailing lists in the UK (this won't cover mail that is unaddressed or from overseas).
Check an investment opportunity using the Financial Conduct Authority Warning List online tool.
Check that an investment company is on the Financial Conduct Authority Financial Services Register.
What to do if you have been scammed?
If you are concerned that you have been a victim of a scam, then you can report fraud, including online and internet crimes, to Action Fraud, who is the UK's national reporting centre for fraud and cybercrime.
You can report the crime on their website or by calling 0300 123 2040.
Also, tell your bank or financial institution immediately if you notice a suspicious transaction from your bank account or credit card. They will try to recover any money lost. They may cancel your current card and send you a new one to stop any other fraudulent transactions from your account.
Report the scam to the police.
Getting support
Contact Victim Supportor Think Jessica if a scam has made you feel anxious, fearful or guilty. They provide emotional and practical help to victims of crimes and scams.
Contact the 24-hour Samaritans helpline on 116 123 if you feel low or anxious and need someone to talk to.
If you need care and support, you can contact your local council's adult social services department. They can provide safeguarding support, and will work with you to consider what action to take.
Further information
If you found this information useful you may also want to check out the following:
Mike Robertson Associates Limited is an appointed representative of Lighthouse Advisory Services Limited which is authorised and regulated by the Financial Conduct Authority. See Full Details.
They help individuals, businesses and families achieve the best quality of life they can with the resources they have. MRA specialises in cash-flow analysis, taxation, savings and investments, life centred planning and much more. Life Centred Financial Planners are passionate about working with you to help you achieve your life and financial goals, get control of your finances to enjoy a brighter financial future.
Based in East Sussex we service clients across the South East, Sussex and Kent, including smaller towns such as Ashford, Battle, Bexhill, Bodiam, Brighton & Hove, Cranbrook, Crowborough, Eastbourne, Hailsham, Hastings, Heathfield, Herstmonceux, Lewes, Mayfield, Newhaven, Rye, Seaford, Sevenoaks, Tenterden, Tonbridge and Tunbridge Wells.
Sources:
https://www.cnbc.com/2018/04/30/aging-brains-become-less-able-to-detect-fraud.html
https://academic.oup.com/psychsocgerontology/advance-article/doi/10.1093/geronb/gby036/4969910
https://www.ageuk.org.uk/information-advice/work-learning/technology-internet/internet-security/
https://www.ageuk.org.uk/information-advice/money-legal/scams-fraud/
https://www.tpsonline.org.uk/tps/index.html
http://www.mpsonline.org.uk/mpsr/
http://scamsmart.fca.org.uk/warninglist/
https://www.actionfraud.police.uk/
https://www.victimsupport.org.uk/