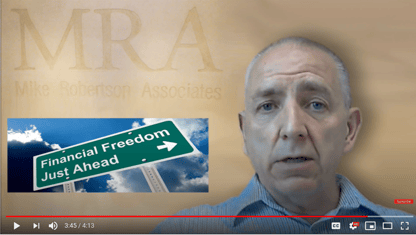 Life Centred Financial Planning & Lifestyle Financial Planning
A Life Centred Financial Planner or Lifestyle Financial Planner helps you manage your finances to achieve your lifelong goals and to pursue the enjoyment of your life. Mike Robertson Associates Ltd (MRA) are Life Centred Financial Planners and LifeStyle Financial Planners who determine how our clients can meet those lifelong financial goals through management of resources using cash flow modelling and analysis. We examine your current situation, the financial history of your assets and the income potential of your future to recommend exactly what steps you need to take here in the present and in the future to meet your expected goals.
Contrast to Average Financial Advisors
In stark contrast to most professional financial advisors, who often focus on only one area of a client's financial life, usually a specific financial product, Lifestyle Financial Planners develop strategic solutions that cover every aspect of your broader financial life.
We Work With Your Other Advisors
In this sense, we are the maestros of your financial orchestra. We do not work alone. We will inevitably meet and discuss with your other advisors, such as accountants, bankers, stock brokers, insurance brokers, solicitors, etc., in order to fully understand your current financial status and whether you are moving quickly and efficiently toward your financial goals.
Our Concern is to Safeguard Your Family
Our concern is to safeguard your family, shelter your assets and secure your future. When working with you, we will ultimately devise comprehensive plans to cover every eventuality concerning such things as: raising your family, protecting your income, planning for your retirement, tax and estate planning, debt management, dealing with a divorce, corporate exit strategies, buying a home, or investing an inheritance.
To Build a Comprehensive Financial Strategy
To achieve a comprehensive financial strategy, we will conduct in-depth questioning and personal interviews to put together a client profile detailing financial objectives, current income, investments, risk tolerance, expenses, tax planning, insurance coverage, retirement programs, estate planning, and other pertinent information to assemble a plan that meets your overall or specific financial agenda.
The plan details a set of recommendations and strategies to build a successful life, as determined by you. It is a "life ascent plan" to reach the pinnacle of your goals.
We Will Support You Every Step of the Way
Taking in the panorama of your financial future can be intimidating the first time. We will work with you until you grasp the implications of the bigger picture and assist you to transition your dreams into reality. We will continue to support you until you are completely on a straight and narrow path to your goal.
In Conclusion, We Will Help You Achieve Your Goals
In conclusion, we will help you to quickly achieve your lifelong financial goals in the most efficient way possible. We will present your Lifestyle Financial Plan in clear and concise English. We will help you every step of the way to reach your ultimate goal.
For your complimentary, 30 minute, no obligation consultation, please call 01424 777156 to schedule your meeting today.
Related Blogs:
For a Brighter Financial Future
Life Centred Financial Planners - The Alternative Financial Advisers
Is Financial Advice Value For Money?
IFA vs Lifestyle Financial Planner
The information given and opinions expressed are subject to change and should not be interpreted as investment advice.
Past performance is no guide of future performance.
The value of your investments can go down as well as up, so you could get back less than you invested.