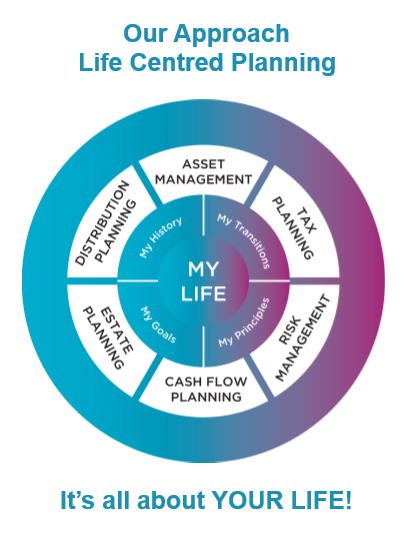 You may be wondering what is a Life Centred Planner and how are we different from other traditional Financial Advisers? Let's take a look.
Traditional Financial Advice
Traditionally, Financial Advisers focus on money. What assets and investments do you have, how are they performing and what do you need in place to protect those finances. They would focus on the sale of financial products to manage your assets.
The Life Centred Approach
Life Centred Financial Planning focuses on you and your life first. Until we understand you, your values, how you arrived in this place in your life, your current situation, your hopes and fears for the future, we believe that we have no right to suggest or tell you what to do with your money.
What's the Money For?
Life Centred Planners take the time to understand what the money's for. After all, there is usually a purpose for the wealth you have accumulated – to create the best life possible for yourself and your family.
That's why your life is the centre of the conversation.
How Do We Do That?
Your history – where did it all begin, what has come before that has influenced where you are today?
Your principles – what are your values in life? what's important to you?
Your transitions – the forks in the road you have faced in your life, what sacrifices and decisions did you make and who was impacted?
Your goals – where are you headed? what are your dreams for the future?
These are the stepping stones for getting to know you as a person. As Life Centred Financial Planners, we deal with human beings, not just facts and figures, and we want to know your story before looking at your money. We help you to achieve the life you want and enable you to live it to the full.
Of Course, We Also Take Care of Your Money
While we approach things differently from a traditional Financial Adviser, we still do all the things that they do too. Once we know you and what your aspirations are, we work with you to build a financial plan and look at how best to utilise your money to support those goals. We identify whether financial products are needed to help create the life you want. We are interested in the why not the what.
Life Centred Planners – the Alternative Financial Advisers
If you care about accumulating great experiences in life and living the best life possible, utilising the money you have, then life centred planning can help you achieve that. We are passionate about working with people who want to create a brighter future for themselves and their families. That's why we offer a complimentary half hour consultation with one of our experienced Life Centred Planners so you can see how we are different and what you could achieve with a plan that is focused on you and your life. Contact us today, we would love to hear your story.
Further information
If you found this information useful you may also want to check out the following:
Mike Robertson Associates Limited is an appointed representative of Lighthouse Advisory Services Limited which is authorised and regulated by the Financial Conduct Authority. See Full Details.
They help individuals, businesses and families achieve the best quality of life they can with the resources they have. MRA specialises in cash-flow analysis, taxation, savings and investments, life centred planning and much more. Life Centred Financial Planners are passionate about working with you to help you achieve your life and financial goals, get control of your finances to enjoy a brighter financial future.
Based in East Sussex we service clients across the South East, Sussex and Kent, including smaller towns such as Ashford, Battle, Bexhill, Bodiam, Brighton & Hove, Cranbrook, Crowborough, Eastbourne, Hailsham, Hastings, Heathfield, Herstmonceux, Lewes, Mayfield, Newhaven, Rye, Seaford, Sevenoaks, Tenterden, Tonbridge and Tunbridge Wells.
Image credit: Life Centred Planners