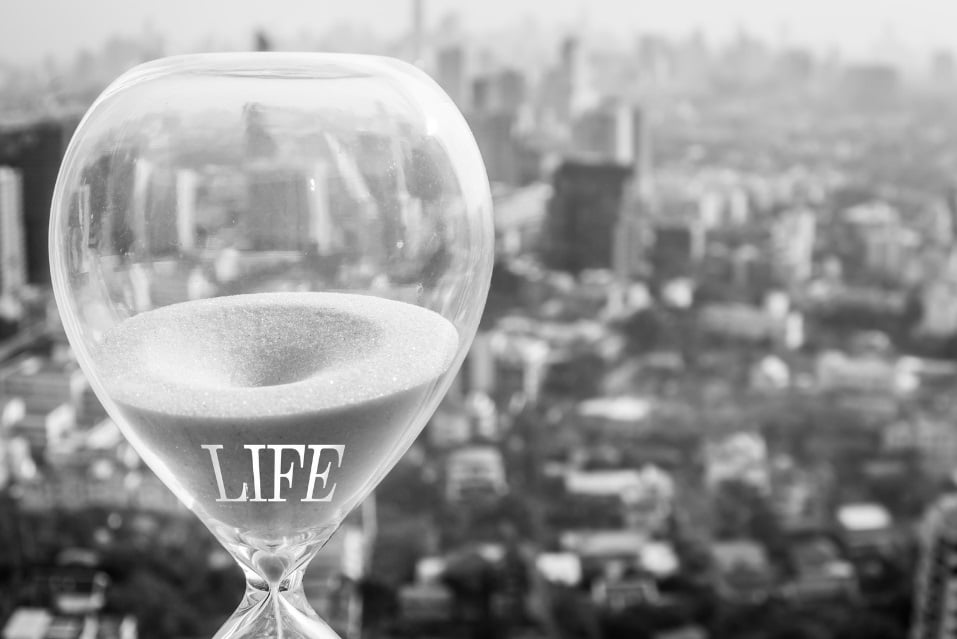 We all know that we could die tomorrow, but the distractions of everyday life keep us from thinking about that reality. Meaning we often fool ourselves into believing we have plenty of time in which to achieve our ambitions, putting them off to a later date when we will be less busy. But what if your time was up now? There's no time to waste when it comes to living the best life possible in the time you have left on this planet.

Too busy
Like most of us, you are probably extremely busy. You might have kids, a business, a partner, interests and hobbies – your life is full!
You may even find that you're so busy you have trouble sleeping or wake up in the night because your mind is whirring, you just can't shut it off.
Many of us are so consumed by being busy that we often miss the current moment. Occupied with thinking about the past and the future, not what's happening in the present.
This busyness causes us to procrastinate about a lot of things. People do a lot of 'one daying'.
One day I will travel around Italy for a Summer

One day I will retire to the South of France

One day I will buy a soft top car

One day I will take up painting again

One day I will get fit

One day we will move to the country
We all have big dreams for the future. We all think we have plenty of time. You know that eventually, you will die, and your time will have run out. However, you always believe there is enough time left to do everything you want and so put things off just to deal with today, running around taking the kids to school, delivering that project at work, taking the dog for a walk, going to the game with friends at the weekend.
What if?
What if your time was up now or tomorrow or next week? Sometimes we are jolted into the realisation that death can be unexpected. You hear about a friend, colleague or neighbour who passed away at a relatively young age. It is shocking, it makes us acutely feel the reality that life is precious and not a guarantee. However, the next day normal life resumes, and we are distracted by being busy and the demands of every day.
Do it now!
Don't be the person who dies unexpectedly, and everyone says how sad it was that you never realised your dreams. Take action now.
Life is not a rehearsal, and you may only have one shot at this. Make the time you have left on this planet count. What do you want to achieve in this lifetime, what are those things you really want to do?
We help people live the best life possible with the time they have left – no matter how long or short. Stop putting off living and start on the path to realising your ambitions before it's too late. Contact us for a free chat to make your 'one day' today.
Further information
If you found this information useful you may also want to check out the following:
Mike Robertson Associates Limited is an appointed representative of Lighthouse Advisory Services Limited which is authorised and regulated by the Financial Conduct Authority. See Full Details.
They help individuals, businesses and families achieve the best quality of life they can with the resources they have. MRA specialise in cash-flow analysis, taxation, savings and investments, life centred planning and much more. Life Centred Financial Planners are passionate about working with you to help you achieve your life and financial goals, get control of your finances to enjoy a brighter financial future.
Based in East Sussex we service clients across the South East, Sussex and Kent, including smaller towns such as Ashford, Battle, Bexhill, Bodiam, Brighton & Hove, Cranbrook, Crowborough, Eastbourne, Hailsham, Hastings, Heathfield, Herstmonceux, Lewes, Mayfield, Newhaven, Rye, Seaford, Sevenoaks, Tenterden, Tonbridge and Tunbridge Wells.