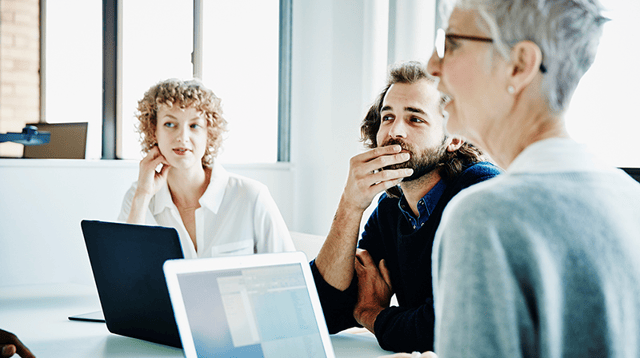 Is your business guilty of ignoring the needs of older workers and contributing to high levels of dissatisfaction?
Older workers are feeling more stressed and less appreciated than their younger colleagues1 – and employee benefits may not be helping.
Research by workplace consultants Peldon Rose found that just 23% of over-55s feel appreciated by their employer. It also highlighted the differing attitudes towards employee benefits between the oldest and youngest employees.
More than three-quarters of under-25s think that social events are important for their wellbeing at work. But over-55s don't agree, with 56% stating that they were the least important benefit offered by employers. There is also a marked contrast in attitudes towards gym memberships and other wellbeing packages: 63% of under-25s consider them important while 39% of over-55s said they were the least important employee benefit.
Employee benefits aren't merely perks; they signify how recognised and supported employees feel in their workplace. Failing to focus on benefits that appeal to older workers could be part of the reason that 80% suffer from (or have suffered from) workplace stress. It could also help explain why less than a quarter of over-55s feel appreciated by the company they work for.
Fuller working lives
Such levels of dissatisfaction are bad news for employees and employers alike, especially when you consider how Britain's workforce is ageing. There are currently 7.2m workers aged 50-64 and by 2020 one third of Britain's workforce will be aged over 50, according to the Institute of Employment Studies2.
The unsuitability of a one-size-fits-all approach to supporting and motivating employees is backed by a report from the Chartered Institute of Professional Development (CIPD)3. 'Managing an age-diverse workforce' found that values such as trust, recognition and freedom were important to younger age groups, while older workers considered work-life balance and flexibility more important.
The report states that "as work priorities vary across age groups there can be widely disparate values and interests… this causes friction when colleagues feel that others are focusing on their own interests."
The authors acknowledge that promoting and supporting age diversity without "making it into an issue" is a challenge for management.
Additional CIPD research suggested that many older workers consider "time is more important than money"4 hence the focus on flexibility in their working arrangements. Taking additional unpaid leave was seen as a particularly attractive by this demographic who may have fewer financial obligations once children have left home and mortgages are paid off. Find out more about planning for life after work here.
Support with stress
The Office of National Statistics reports that life expectancy has been on an upward curve for last 30 years5. This trend means more and more employees will have elderly parents that may need their support. Providing such care can be stressful in itself with possible knock-on effects for their wellbeing at work.
Whatever solutions employers choose to address the concerns of older workers, it is clear that age must be a key consideration when selecting effective employee benefits.
MRA are Lifestyle Financial Planners, they promise to help individuals and families live the best quality of life they can with the resources they have. MRA specialise in retirement planning, estate planning, help with making a will, savings and investment planning, protection planning, support with budgeting, money management and much more. Lifestyle Financial Planners are passionate about working with you to help you achieve your life and financial goals, get control of your finances and enjoy a brighter financial future.
Based in East Sussex we service clients across the South East, Sussex and Kent, including smaller towns such as Ashford, Battle, Bexhill, Bodiam, Brighton & Hove, Cranbrook, Crowborough, Eastbourne, Hailsham, Hastings, Heathfield, Herstmonceux, Lewes, Mayfield, Newhaven, Rye, Seaford, Sevenoaks, Tenterden, Tonbridge and Tunbridge Wells.
Sources:
1 Health Insurance Daily. (2017). Older workers 'more stressed than younger colleagues'.
2 IES. (2017). Dementia Friendly Workplaces, p1
3 CIPD. (2015). Managing an age-diverse workforce, p4
4 CIPD (2015). Managing an ageing workforce, p8,9