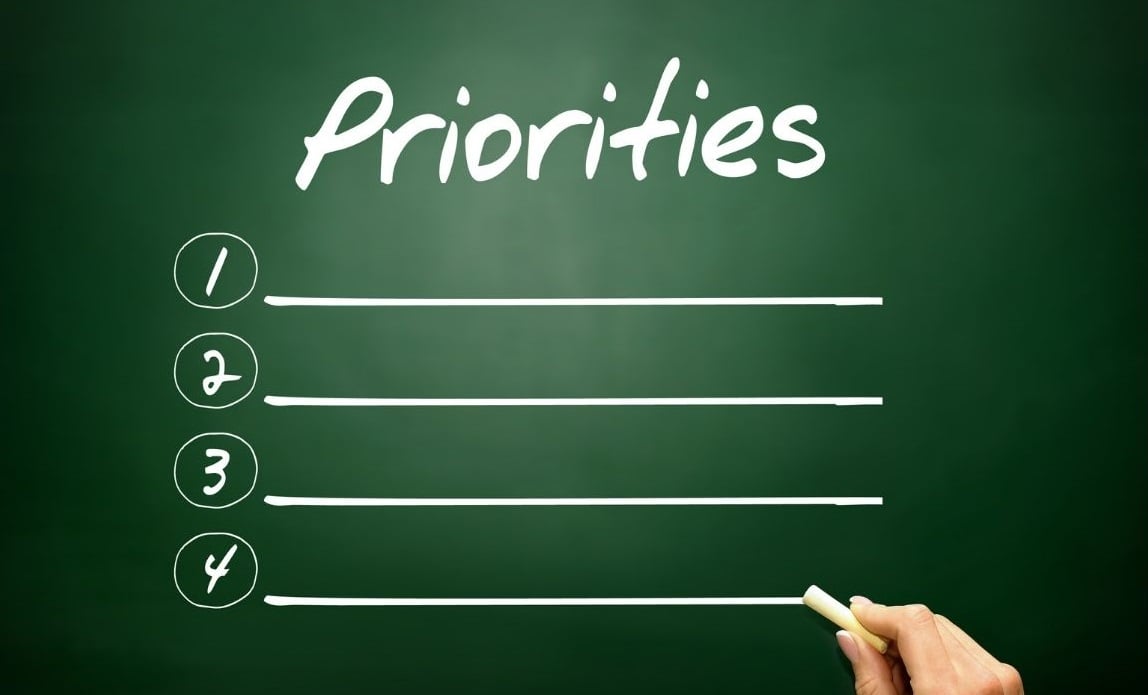 Sacrifice, it's a word often used in modern life. To get what we want, we have to sacrifice something. Be willing to give something up to get something great. But what if it's not about sacrifice at all? What if what we really should be doing is prioritising?
Just give it up already!
If you want to read more books, stop browsing social media.
If you want a healthy body, stop eating doughnuts.
If you want to be the next Bill Gates, then sleep less.
There always seems to be some sort of downside to every ambition you could have. A sacrifice that has to be made to achieve a better life. It can often feel like you have to be miserable to be successful. I mean, who wants a life without doughnuts!
Just prioritise
However, it doesn't have to be that way. Instead of sacrificing just prioritise instead. It really is that simple. If it feels like you're sacrificing something to achieve your goals, then you may need to reassess your ambitions and why you are working towards those achievements.
Why should we prioritise?
Know that headless chicken feeling we all get from time to time, running around in circles and not getting anywhere? That's caused by a lack of direction and either not prioritising or being unsure about what's important and what's not.
If you want to make progress and move forward towards bigger and better things for yourself, then you have to start by identifying what you want to achieve and then prioritising the things that will get you there. Eliminating or at least limiting the distractions that won't support your aims.
The most important question
Once you are clear on your life goals – get more information about identifying those here – it will become easier to see what is a priority and what is not.
Just ask yourself this one question:
'Will this bring me closer, add value or support my goals in any way?'
If the answer is no, then question why you are even considering that activity or task at all.
For example, your goal is to eliminate debt in 2 years. You have the opportunity to go out to lunch with friends or see your financial adviser to create a budgeting plan. If you ask yourself the question above, then it is easier to see that meeting with your financial adviser would be vital to achieving your goal in the long term. On this occasion, you might choose to prioritise the meeting and ask your friends over to your house for a catch up in the evening instead. Saving money on an expensive lunch, which would also benefit your ambition for becoming debt free.
By honestly answering the question, it forces you to acknowledge which course of action would be most beneficial. Helping you to prevent procrastination and leaving the hard stuff until later.
Prioritise not sacrifice
The funny thing is, if you prioritise in this way, it won't feel like a sacrifice. If you know why something is important to you, it is much easier to prioritise the activities that bring you closer to the life you dream of and stop doing the things that take you further away.
It isn't all about those big life goals either. You may just want to have a life where you get to spend more time with your children or to feel well rested on a consistent basis. These are just as essential to an enjoyable experience as aiming to be a CEO before your 30 or buying your first house.
Life isn't perfect
Of course, life isn't always straight forward, and things will happen that force you to stop and deal with them. These may not be things that serve your life goals, but none the less have to be tended to.
Emergencies, tragedies and unforeseen inconveniences will occur and interrupt the priorities you had for that day, and that's ok. It's a reality. Sometimes you will be able to deal with the urgent issue and then get back to life as normal. Other times it may cause you to completely reassess what you wanted for your life and re-prioritise everything.
Change is the only constant, but having good habits for identifying how best to spend your energy and resources will allow you to create a brighter future for yourself and your family.
What will you prioritise?
So, what will you prioritise today? Which activities have suddenly jumped up the list?
The great thing about prioritisation are the benefits it can potentially bring:
Better focus – it will help you focus on those key tasks and complete them before moving on.
More confidence – you won't be worrying about if you're wasting your time, should you be doing something more important, you can be confident about how you are spending your time and be truly present in it.
Better friend, parent, partner – instead of your loved ones being at the bottom of the list every time, prioritisation will allow you to protect time and energy for their benefit. You won't waste resources on activities that take you away from connection and instead focus on maximising your time together.
Enjoy your work life – even the most jaded person can get excited again about their occupation if you recognise which goal it is supporting. Discover a new found energy for what your job brings to your life.
So, start today. Look at everything on your plate and start working out which things need to be dealt with and what stuff can be completely crossed off. Don't be miserable making sacrifices, identify your priorities and start working towards the life you dream off.
Further information
If you found this information useful, you may also want to check out the following:
Mike Robertson Associates Limited is an appointed representative of Lighthouse Advisory Services Limited which is authorised and regulated by the Financial Conduct Authority. See Full Details.
They help individuals, businesses and families achieve the best quality of life they can with the resources they have. MRA specialises in cash-flow analysis, taxation, savings and investments, life centred planning and much more. Life Centred Financial Planners are passionate about working with you to help you achieve your life and financial goals, get control of your finances to enjoy a brighter financial future.
Based in East Sussex we service clients across the South East, Sussex and Kent, including smaller towns such as Ashford, Battle, Bexhill, Bodiam, Brighton & Hove, Cranbrook, Crowborough, Eastbourne, Hailsham, Hastings, Heathfield, Herstmonceux, Lewes, Mayfield, Newhaven, Rye, Seaford, Sevenoaks, Tenterden, Tonbridge and Tunbridge Wells.