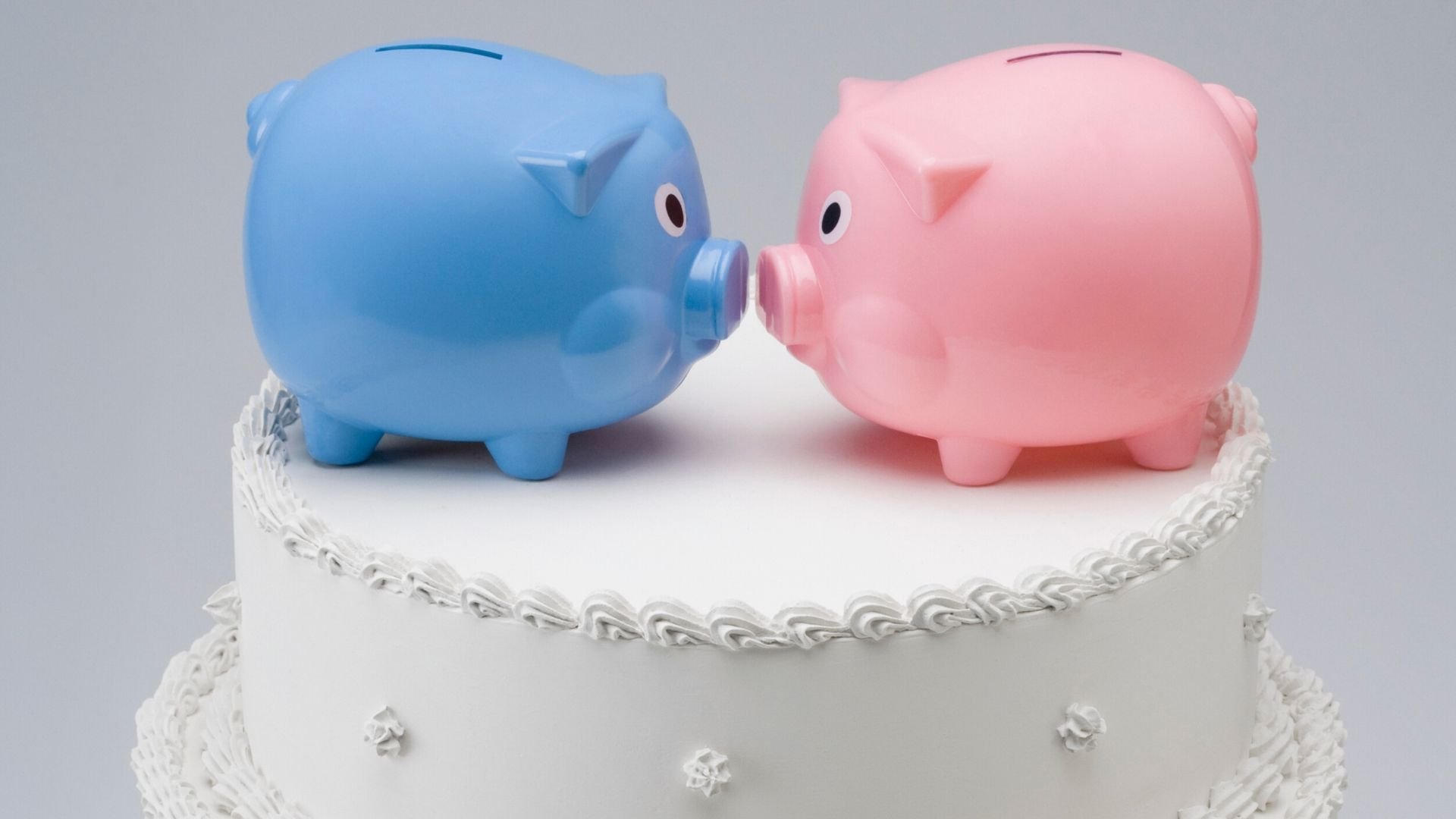 Congratulations! You've just got engaged and you're feeling high on life. Then you find out the average cost of a wedding in the UK is £27,161 and you come crashing back down with a bump! That's a large sum of money, and even more surprising when you consider that the average savings account set up to put away money specifically for the big day contains just £2,800. Although 51% of couples receive help from friends or family, you still may find yourself having to pay for the majority, if not all, of your wedding. So, to help you achieve the perfect day, here are our tips when it comes to budgeting for a wedding.
Plan, plan and then plan some more
You can't underestimate the planning process. After all, it's no good rushing head first into things, finding your dream venue and then discovering you just can't afford it.
Work out how much money you will have available to spend on the wedding. Do you have that money already or are you going to need to save over time? What does that sum look like when broken down into monthly amounts?
You will also need to think about if you are going to wait until the money is saved to start making bookings etc. or are you going to save alongside making reservations and choosing suppliers. If you plan to save during the process of creating your wedding, then calculate whether you will have enough money to pay for the relevant services when required.
Decide what you need to make the day special for you – flowers, a band, bridesmaids, a beautiful dress, venue etc. Then allocate a cost for each of those items and see if you can do it all within your budget. You may find that you need to compromise on some of your ambitions if funds are tight. You can get help with creating a budget here. It's important to be realistic about what your day will look like and not get swayed by the pretty pictures in magazines.
Start saving now
The sooner you can start putting money to one side, the better. Even if the date you have set seems a long way off, you may want to have funds set aside so that you can secure a photographer or a popular venue now at this year's prices to save money in the long run.
The average time couples take to plan a wedding is just 12 months, which is a short timeline if you don't have the money already available. If, however, you are looking to get married in a few years, consider where the best place to save your money is. You may want to think about seeking professional financial advice to ensure you're making the most of the resources you have available.
Less is more
You may have imagined a large country house with a sweeping drive and wearing a gorgeous designer dress, but your budget may just not stretch that far. Imagine what your perfect day would look like and then think practically about how you could achieve that same feel for less investment.
For example, could you get married at the local registry office and just use the expensive venue for the evening? Or is there a local hotel you could use instead? Maybe a relative has a large garden you could erect a marquee in. You can often save money by getting married on a weekday rather than a weekend.
If it's a beautiful dress or designer suit you can't stop fantasising about, then consider whether one of the high street stores who carry a wedding line would fit the bill. Also look for seasonal sales or outfits that are being discontinued making them available for a reduced cost.
Is it the after party that you can't wait to get to? Consider just having a small ceremony with close family earlier in the day and inviting the rest of your guests to a celebration in the evening, skipping the wedding breakfast and cutting down on venue and food expenses.
Ask friends and family
Do you have talented friends who could make the cake, or create fantastic table centrepieces? Let people know what kind of things you are looking for. Never underestimate the contacts your loved ones may have, if they can't provide something themselves they may know someone who can and get you a discount by introducing you.
By making your own invitations, wedding favours and anything else you can craft yourself, you can start to make financial savings.
Postpone the honeymoon
Looking forward to a luxury holiday where you can thoroughly spoil yourselves? You're probably imagining your honeymoon to be one of the best vacations you have ever had, but with the cost of the wedding at the same time, it may be hard to fund both.
One option could be to skip a wedding in the UK altogether and look at whether a destination wedding would be better value for money. Getting married in the same location as you plan to honeymoon in can often be less expensive. Usually, you will have fewer guests to accommodate, and they may also pay for themselves to attend, reducing your outgoings.
Or how about postponing the honeymoon? This could also be a good option if the time of year you have planned your nuptials for is hurricane season in your desired honeymoon location. So, instead of honeymooning straight after the wedding, wait until the following year when you have more money available to spend on that dream holiday. It will also give you something else to look forward to once the wedding excitement dies down. If you would still like to holiday after the wedding, then think about having a mini-moon and go away for a few days somewhere less expensive, happy in the knowledge that the main vacation is still to come.
Remember why you're getting married
It's easy to get caught up in the excitement and planning of a wedding that you lose sight of what's really important. No matter what your day looks like, whether it rains or is glorious sunshine, you will still be committing yourself to the love of your life. The most important thing is that you will be celebrating the love between you and your partner with the people you love.
Guests won't remember if you gave them sugared almonds as favours or whether there were 4 tiers or 6 to the cake. What they will remember is how happy they were for you and the love you shared with them. Whatever your wedding looks like you will have the most amazing day, and it won't be dependent on how much money you did or didn't spend.
Get a partner in crime
Having someone to bounce ideas off, talk challenges through with and share in the excitement can make a real difference to your ability to continue to work towards a goal.
If you are struggling with making a plan, working out how much money you will need and how to arrange your finances to best support your ambitions then you may want to consider seeking professional advice.
By working with a Life Centred Financial Planner you can start building a brighter future today. They will work with you to understand your hopes and dreams for the the future and create a realistic financial plan that makes the best use of your money.
Life Centred Financial Planning services come in different forms depending on how much assistance you need. For some people, a one-off consultation will be ample, but others might need ongoing support. You'll find our Life Centred Financial Planners, experienced, and extremely qualified but at the same time very approachable, proficient, empathetic and practical. Our Life Centred Financial Planning service is exceptional value too.
We offer a complimentary 30-minute consultation to anyone who would like to chat about their concerns. Contact us today on 01424 777 156, or via email info@mraltd.com to make an appointment without any obligation to sign up to anything and start creating a brighter financial future together today.
Further information
If you found this information useful, you may also want to check out the following:
Mike Robertson Associates Limited is an appointed representative of Lighthouse Advisory Services Limited which is authorised and regulated by the Financial Conduct Authority. See here for full details.
Specialising in Life Centred Financial Planning, MRA is unlike other traditional independent financial advisors – we are so much more. We help individuals, businesses and families achieve the best quality of life they can with the resources they have. Life Centred Planning is about the person, not the product and our Life Centred Financial Planners look at how your money can be arranged so that it's serving your aims and dreams in this lifetime.
Based in East Sussex, we service clients across the South East, Sussex and Kent, including smaller towns such as Ashford, Battle, Bexhill, Bodiam, Brighton & Hove, Cranbrook, Crowborough, Eastbourne, Hailsham, Hastings, Heathfield, Herstmonceux, Lewes, Mayfield, Newhaven, Rye, Seaford, Sevenoaks, Tenterden, Tonbridge and Tunbridge Wells.
https://www.hitched.co.uk/wedding-planning/organising-and-planning/wedding-survey-2017_1383.htm
https://www.ybs.co.uk/media-centre/saving-for-your-wedding/index.html