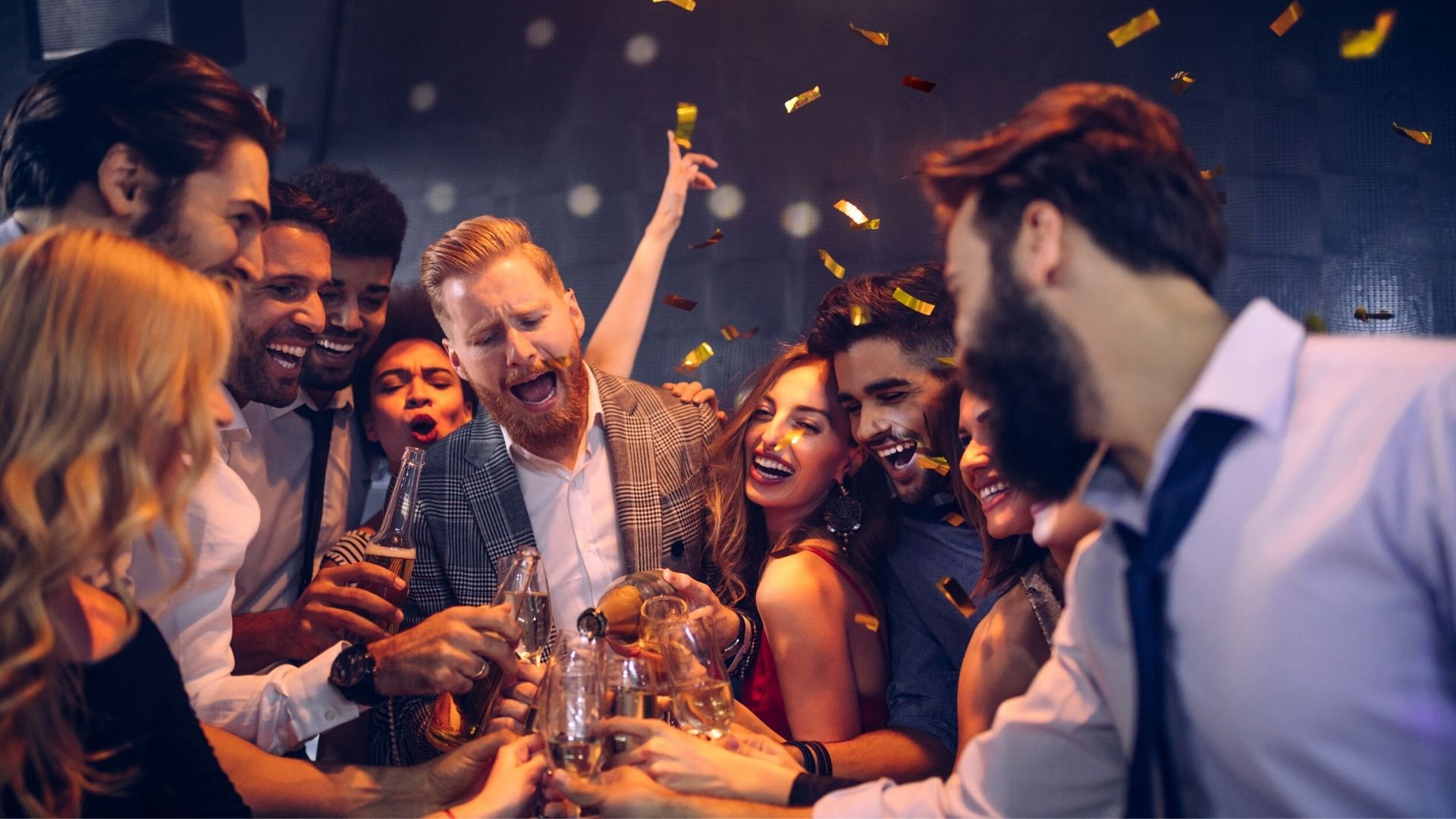 Going out a couple of times a month may not have too much of an impact on your finances, however, at this time of year the parties and after-work drink invites start to mount up and you may have multiple events to attend. This can have a detrimental effect on your cash flow. So, how can you still go out and have a good time without breaking the bank? Here are our tips.
Plan what you're going to spend
On average people spend £70.69 on a night out, which is not a small amount. Add in multiple get-togethers and you could soon be running into your overdraft.
Look at your budget and how much money you have available to spend. Then, allocate an appropriate amount to your night out and try to stick to that. Do research about the venue ahead of time and implement the rest of the tips below to help you stick to your budget.
Take cash not card
According to research, 26.7% of respondents say they tend to spend more than planned when they pay with their card or phone instead of using cash – going up to 30.8% among 18-21 year olds and 33.3% among 22-25 year olds.
It's easier to keep track of your money when you can physically see what you have left to spend in cold hard cash. Increasing the likelihood of sticking to your agreed budget.
Eat before you leave home
If you can, eat before you go out socialising. It can be too tempting after a few drinks to start ordering food as well if you're starving hungry, increasing the amount of money spent. 21.9% of people say that they eat at home before they go out as a good way of keeping costs down.
Look for deals and discounts
Choose venues where there are discount offers or perhaps a happy hour, and you can get better value for your experience.
Research the venue to know how much drinks are or if there is a set menu you could have. This will allow you to plan effectively and not get caught out by pricey cocktails you weren't expecting.
Be the designated driver
Taxis can be expensive, so offer to be the designated driver to save money. Your friends may even agree to buy your soft drinks in exchange for the ride. Meaning your night out could end up costing you nothing!
However, if you were looking forward to having several glasses of alcoholic refreshment, speak to other people who are also attending the event, could they travel in the same car and split the taxi fare between you? Are you lucky enough to have a family member or partner who wouldn't mind collecting you at the end of the evening? If you ask around you might be surprised at who will offer to help.
Avoid buying rounds of drinks
Getting caught in the endless circle of round buying could end up being extremely costly. Avoid this if you can and only buy drinks for yourself. 26.6% of people surveyed said they overspend when they buy rounds of drinks with their friends.
Split childcare arrangements with friends
If you have kids, this is probably the first thing that comes to mind when you receive an invite for drinks. Finding suitable childcare for an evening can be a real stumbling block, and not everyone is lucky enough to have family close by who can help out. Consider asking your friends who are also parents if they can help. The chances are they will also be invited out at some point, and you may be able to do a swap of services – they help with your children, and then you return the favour for their night out.
Don't buy a new outfit
It can be tempting to feel that you need a new festive outfit for all the events you have planned and don't want to be seen in the same thing twice.
But realistically no-one will notice if you wear an outfit more than once. Plus, if the drinks are flowing, then their memory will potentially be clouded with alcohol.
Try not to stress about what you are going to wear; people are inviting you out because they want your company, not because they are interested in your choice of outfit. Consider what you already have in your wardrobe and whether you could dress up a simple black dress with some costume jewellery. That work jacket that looks oh so boring, pairing it with different trousers and a more relaxed top underneath, can really change the look. Failing that see what friends have that you might be able to borrow.
Make sure you stay safe
Having fun on a night out means that we sometimes don't take the same precautions as we would at other times. Here are a few suggestions on how to stay safe, so that the only repercussion is the hangover in the morning:
Keep drinks with you and don't accept them from strangers
Make sure you have enough cash to get a taxi home should you unexpectedly need to
Use a registered taxi that you have pre-booked and ask for the driver's name, so you know it's your taxi when it arrives
Stay with friends and make sure no-one is left on their own
Make sure your phone is charged and has enough credit
Tell someone where you are going and when you expect to be home
Further information
If you found this information useful, you may also want to check out the following:
Mike Robertson Associates Limited is an appointed representative of Lighthouse Advisory Services Limited which is authorised and regulated by the Financial Conduct Authority. See here for full details.
Specialising in Life Centred Financial Planning, MRA is unlike other traditional independent financial advisors – we are so much more. We help individuals, businesses and families achieve the best quality of life they can with the resources they have. Life Centred Planning is about the person, not the product and our Life Centred Financial Planners look at how your money can be arranged so that it's serving your aims and dreams in this lifetime.
We are experts in cash-flow analysis, retirement planning, taxation, savings and investments, life centred planning and much more. We are passionate about working with you to help you achieve your life and financial goals, get control of your finances to enjoy a brighter financial future.
Based in East Sussex we service clients across the South East, Sussex, Kent and the whole of the UK including smaller towns such as Ashford, Battle, Bexhill, Bodiam, Brighton & Hove, Cranbrook, Crowborough, Eastbourne, Hailsham, Hastings, Heathfield, Herstmonceux, Lewes, Mayfield, Newhaven, Rye, Seaford, Sevenoaks, Tenterden, Tonbridge and Tunbridge Wells.
Sources:
Deltic Group - Deltic Night Index December 2019